---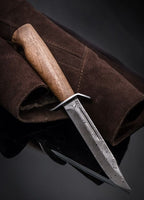 Introducing the Damascus Hunting Knife, a symbol of precision and craftsmanship, designed to elevate your outdoor experiences. This exceptional knife features a Damascus Steel Blade with a blood groove, a handle meticulously crafted from Walnut Wood, and is adorned with a durable Steel Guard. It's available exclusively at KBS Knives Store, where quality meets elegance.
Key Features:
Damascus Steel Blade with Blood Groove: At the core of this knife lies a Damascus Steel Blade, enriched with a blood groove. This blade not only exhibits exquisite patterns but also ensures exceptional sharpness and strength, making it an ideal choice for hunting and outdoor tasks.

Walnut Wood Handle with Steel Guard: The handle is a work of art, meticulously crafted from Walnut Wood and complemented by a Steel Guard. This combination provides not only a comfortable and secure grip but also adds sophistication to your outdoor gear.

Versatile Design: Whether you're hunting, camping, or engaged in various outdoor activities, this Damascus Hunting Knife is your versatile companion. It's designed to withstand the rigors of outdoor life while offering precision and control.

Leather Sheath: To keep your prized knife secure and readily accessible, it comes with a custom-fitted leather sheath. This sheath not only adds sophistication but also protects the blade when not in use.
Elevate your outdoor adventures with the Damascus Hunting Knife from KBS Knives Store, where precision meets elegance. Whether you're a seasoned hunter, an outdoor enthusiast, or someone who values top-tier tools, this knife is designed to exceed your expectations. Don't miss the opportunity to make this exceptional piece of cutlery your trusted outdoor companion; visit KBS Knives Store today and enhance your outdoor experiences with the Damascus Hunting Knife for sale.