---
About Us
Posted by Ric Jordan on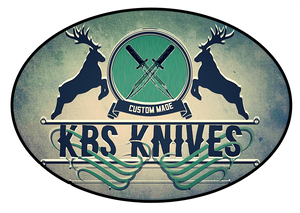 Welcome to the world of KBS Knives, where passion and craftsmanship converge to create exceptional blades. With a rich history dating back to 2000, we've been crafting knives that are not just tools but exquisite works of art. Our founder, Ric Jordan, has dedicated his life to the art of handmade knife-making, and today, we proudly offer a diverse range of blades, including hunting knives, skinning knives, bowie knives, chef knives, swords, and more.
What sets us apart? We craft each knife by hand, using premium materials like Damascus steel, 1095 steel, D2 steel, and various tool steels. Whether you're an outdoor enthusiast, a culinary artist, or a collector of fine blades, we have a knife tailored to your needs. And, we don't just serve the United States; our craftsmanship knows no borders, as we ship our knives worldwide.
Explore the artistry of KBS Knives and discover the perfect blade that combines functionality, precision, and timeless beauty. Join us on this journey of craftsmanship and excellence.