---
tracker
Posted by Marian F Nelson on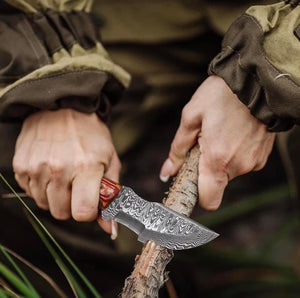 Exploring the Beauty and Utility of the Damascus Tracker Knife


When it comes to knives that are both stunning in appearance and highly functional, the Damascus Tracker Knife stands out as a true masterpiece. This exceptional blade is crafted from Damascus steel, known for its exquisite patterns and exceptional durability. In this post, we delve into the world of the Damascus Tracker Knife, its unique features, and its various applications, making it a must-have tool for any outdoor enthusiast or collector.
The Elegance of Damascus Steel
Damascus steel, renowned for its beautiful wavy patterns, is a result of meticulous forging and layering techniques. Each Damascus Tracker Knife possesses a unique and mesmerizing aesthetic, making it a work of art in addition to a practical tool.
Versatility Beyond Compare
The Tracker Knife's design, with its curved and multi-purpose blade, makes it ideal for a wide range of outdoor activities. Whether you're a survivalist, camper, or hunter, this knife can handle tasks such as chopping, carving, and even skinning with ease.
Perfect for Outdoor Adventures
The Damascus Tracker Knife is a reliable companion for outdoor enthusiasts. It's an excellent choice for camping trips, survival situations, bushcraft activities, and hunting expeditions. Its full tang and fixed blade design ensure durability and stability, even in the harshest conditions.
Collectible and Customizable
For collectors and those who appreciate customization, Damascus Tracker Knives offer a world of possibilities. Many come in limited editions with unique handle materials and engravings. Additionally, you can commission custom Damascus Tracker Knives tailored to your specific preferences.
Maintenance Matters
To ensure your Damascus Tracker Knife retains its beauty and performance, proper care and maintenance are crucial. Regularly clean and dry the blade, oil it to prevent corrosion, and sharpen it as needed to maintain its edge.
Discover the allure and functionality of the Damascus Tracker Knife, whether you're an outdoor enthusiast, a collector, or someone who simply appreciates craftsmanship and artistry. Explore the world of Damascus steel and make this remarkable knife a part of your adventures and collection.