---
What Makes the Fusion of Damascus and D2 Steel in Folding Pocket Knives So Exceptional?
Posted by Marian F Nelson on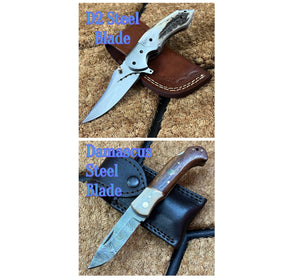 Elegance Meets Durability: The Damascus Blade and D2 Steel Pocket Knife
Welcome to the KBS Knives Store, where we explore the mesmerizing world of folding pocket knives featuring a stunning Damascus blade and a rugged D2 steel core. Dive into the artistry of Damascus steel, known for its beauty and strength, and discover why these knives are a must-have for enthusiasts. Learn about the exceptional benefits of D2 steel, the versatility of the folding design, and essential care tips to maintain your knife's pristine condition. Experience the perfect blend of form and function with our exceptional pocket knives, suitable for collectors, outdoors enthusiasts, and everyday use. Explore the beauty of these knives at KBS Knives Store!