---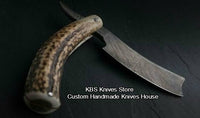 Elevate your grooming experience with the Barber Straight Razor, featuring a meticulously crafted Damascus Steel Blade and a handle made from the rugged yet elegant Elk Antler Horn. This premium shaving tool is now available for sale exclusively at KBS Knives Store, where quality and tradition meet to deliver an exceptional shaving experience.
Key Features:
Damascus Steel Blade: Our Barber Straight Razor boasts a Damascus Steel Blade, celebrated for its remarkable sharpness, durability, and distinctive patterns. This blade ensures an effortlessly smooth and precise shave, meeting the exacting standards of professional barbers.

Elk Antler Horn Handle: The handle is a true work of art, handcrafted from Elk Antler Horn. This natural and unique material not only adds a touch of rustic elegance to your grooming routine but also provides a comfortable and secure grip, allowing for maximum control during your shave.

Leather Case: Safeguard your prized razor with the included Leather Case. This premium case not only protects your razor when not in use but also adds a touch of sophistication to your grooming kit, making it perfect for travel or storage.

Professional Grade: Designed to meet the demands of professional barbers, this straight razor is the epitome of precision and reliability. Whether you're a professional or simply appreciate a professional-grade shave, this razor delivers exceptional results.

Handcrafted Excellence: Each razor is meticulously handcrafted by skilled artisans, ensuring the highest standards of precision and quality. This dedication to craftsmanship guarantees a product that is as beautiful as it is functional.

Eco-friendly and Cost-effective: Opting for a straight razor is not only an eco-conscious choice but also a cost-effective one in the long run. It reduces waste and eliminates the recurring costs associated with disposable razors.

Ideal Gift: Whether you're treating yourself or searching for the perfect gift, the Barber Straight Razor with a Damascus Steel Blade and Elk Antler Horn Handle is an excellent choice. It appeals to those who appreciate the art of traditional grooming and the finest quality.

KBS Knives Store: When you shop with us, you're investing in quality, craftsmanship, and exceptional customer service. We take pride in our reputation for excellence in the knife and razor industry.
Experience the pinnacle of shaving luxury with our Barber Straight Razor. Crafted with a Damascus Steel Blade and an Elk Antler Horn Handle, this razor allows you to elevate your grooming routine, embrace tradition, and achieve a professional-quality shave in the comfort of your own home. Secure your piece of grooming history today, exclusively available at KBS Knives Store.