---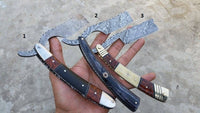 Experience the charm of yesteryears with our collection of three distinct variants of Vintage Straight Razors, each featuring a precision-crafted Damascus Steel Blade. These exquisite razors, available exclusively at KBS Knives Store, combine timeless craftsmanship with unique handle materials to offer a shaving experience like no other.
Key Features:
1st Variant - Rose Wood, Buffalo Horn, and Steel Bolsters:
Damascus Steel Blade: Crafted from premium Damascus steel, this blade not only delivers exceptional sharpness and longevity but also showcases intricate patterns that evoke a sense of nostalgia.
Handle Material: The handle of the first variant is a harmonious blend of Rose Wood, Buffalo Horn, and Steel Bolsters. This combination not only adds rustic elegance but also provides a comfortable grip for a precise shave.
Leather Case: Protect your vintage razor with the included Leather Case, ensuring its safety and adding a touch of sophistication to your grooming routine.
2nd Variant - Paka Wood with Brass Mosaic Pins:
Damascus Steel Blade: This variant features the same high-quality Damascus Steel Blade, renowned for its sharpness and durability.
Handle Material: The second variant boasts a handle crafted from Paka Wood with Brass Mosaic Pins, adding a touch of character and unique design. It offers an ergonomic grip for effortless control during shaving.
Leather Case: Like the others, this variant comes with a Leather Case, making it easy to protect and transport your vintage treasure.
3rd Variant - Bone and Rose Wood with Brass Bolsters:
Damascus Steel Blade: The third variant, too, is equipped with a Damascus Steel Blade, ensuring a smooth and precise shave.
Handle Material: Its handle combines Bone and Rose Wood with Brass Bolsters, creating an exquisite blend of materials that is both visually appealing and functional.
Leather Case: Safeguard your vintage razor in style with the Leather Case included with this variant, adding an extra layer of elegance to your grooming kit.
Eco-friendly and Cost-effective: Opting for a straight razor is not only an eco-conscious choice, but it's also a cost-effective one in the long run. Unlike disposable razors, these vintage razors produce minimal waste and can last for years with proper care.
Ideal Gift: Whether you're a collector or looking for a special gift, these Vintage Straight Razors offer a touch of nostalgia and a commitment to quality craftsmanship.
KBS Knives Store: When you shop with us, you're not just acquiring razors; you're investing in quality, craftsmanship, and exceptional customer service. We take pride in our reputation for excellence in the knife and razor industry.
Explore our collection of Vintage Straight Razors with Damascus Steel Blades, each featuring a unique handle material, and choose the one that resonates with your style and shaving preferences. These exquisite razors capture the essence of a bygone era while delivering a modern, precise, and luxurious shaving experience.