---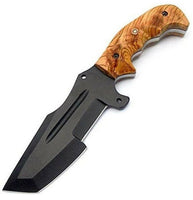 Introducing our exquisite handmade survival knife featuring a robust D2 steel blade with a striking acid washed finish, designed to withstand the toughest outdoor challenges. The blade is carefully crafted by skilled artisans to ensure superior sharpness, durability, and corrosion resistance.
The handle of this survival knife is crafted from luxurious burl olive wood, known for its unique and stunning grain patterns. The natural warmth and beauty of the wood not only enhance the aesthetics of the knife but also provide a comfortable and secure grip for precise handling in any situation.
Measuring 11 inches in overall length, this survival knife is designed for versatility and reliability in the wilderness. Whether you're camping, hiking, hunting, or facing an emergency situation, this knife is your trusted companion.
For added convenience, this survival knife comes with a horizontal leather sheath that allows for easy access and secure storage. The sheath is hand-stitched and made from high-quality leather, adding a touch of rustic elegance to your outdoor gear collection.
Invest in a high-quality, handcrafted survival knife that is not only a tool but also a work of art. With its exceptional craftsmanship, unique design, and reliable performance, this D2 steel acid washed blade survival knife with burl olive wood handle is a must-have for any outdoor enthusiast, adventurer, or knife collector. Order now and be prepared for any survival situation with style and confidence.