---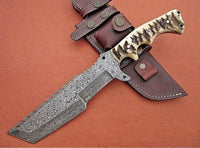 Elevate your collection of knives with this exquisite handcrafted raindrop Damascus tanto blade tracker knife. The blade is forged with precision using time-honored techniques to create a mesmerizing raindrop pattern on the surface, giving it a unique and stunning appearance. The tanto blade shape is known for its exceptional piercing capabilities, making it perfect for various cutting tasks.
The handle of this tracker knife is made from genuine sheep horn, carefully shaped and polished to provide a comfortable and ergonomic grip. Each handle is unique, showcasing the natural beauty of the horn with its distinct colors and textures, making this knife truly one-of-a-kind.
With an overall length of 14 inches, this knife is a statement piece that exudes both elegance and functionality. Its impressive size and design make it suitable for various applications, from outdoor adventures to display in your collection.
For convenience, this tracker knife comes with a horizontal leather sheath that allows for easy carrying and access. The sheath is crafted from high-quality leather, providing durability and protection for the knife.
Indulge in the artistry and craftsmanship of this custom handmade raindrop Damascus tanto blade tracker knife with a sheep horn handle, and experience the joy of owning a truly exceptional piece of cutlery.