---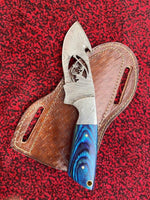 Introducing the Gut Hook Hunting Skinning Knife, a precision-crafted tool designed to enhance your hunting experience, exclusively available at KBS Knives Store. This knife is the perfect blend of form and function, meticulously designed for hunters and outdoor enthusiasts.
Exceptional Wirecut Damascus Steel Blade:
The highlight of this knife is its Wirecut Damascus Steel Blade, renowned for its sharpness and durability.
The gut hook design allows for effortless field dressing, making it a valuable asset for hunters.
Exotic Pakka Wood Handle with Steel Bolster:
The handle is crafted from Exotic Pakka Wood, offering both aesthetics and a comfortable grip.
A sturdy steel bolster adds strength and balance to the knife's design.
Versatile 8.5-Inch Overall Length:
With an overall length of 8.5 inches, this knife strikes the perfect balance between maneuverability and utility.
It's versatile enough to handle a wide range of tasks, from field dressing to general outdoor use.
Custom Leather Sheath:
Safeguard your Gut Hook Hunting Skinning Knife with the included custom leather sheath.
The sheath not only protects the blade but also provides easy access when needed.
This Gut Hook Hunting Skinning Knife is more than a tool; it's an essential companion for any hunting expedition. Its exquisite design, coupled with the precision of the gut hook, ensures you can field dress your game efficiently and effectively. Elevate your hunting experience with a knife that reflects the highest standards of craftsmanship. Secure your Gut Hook Hunting Skinning Knife today, and enjoy the perfect synergy of elegance and functionality, exclusively from KBS Knives Store.