---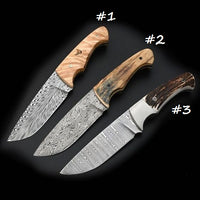 Explore the epitome of hunting excellence with our three exceptional variants of Hunting Knives, all featuring Full Tang Damascus Steel Blades, and now available for sale at KBS Knives Store. Each of these knives is a masterpiece in its own right, designed to elevate your outdoor experience with their distinctive features:
Variant 1 - Olive Wood Handle and Feather Pattern Damascus Steel Blade:

Handle Material - Olive Wood: Crafted from premium Olive Wood, this handle not only exudes natural beauty but also offers a comfortable and secure grip during use.
Blade Pattern - Feather: The Damascus steel blade showcases a stunning feather pattern, not only ensuring exceptional sharpness but also adding a touch of elegance to your outdoor gear.
Overall Length 9.25 Inches: With a total length of 9.25 inches, this knife strikes the perfect balance between versatility and portability.
Leather Sheath: It comes complete with a custom-fitted leather sheath for safe storage and easy access.

Variant 2 - Burl Walnut Wood Handle and Fire Damascus Pattern:

Handle Material - Burl Walnut Wood: The handle, meticulously crafted from Burl Walnut Wood, is not only resilient but also boasts a unique grain pattern that makes each knife one-of-a-kind.
Blade Pattern - Fire Damascus: The blade features an eye-catching fire Damascus pattern that combines aesthetics with razor-sharp performance.
Overall Length 9.25 Inches: With an overall length of 9.25 inches, it's a versatile tool for a wide range of outdoor activities.
Leather Sheath: A custom-made leather sheath is included to keep your knife secure and protected.

Variant 3 - Antler Horn with Ladder Damascus Pattern:

Handle Material - Antler Horn: Crafted from genuine antler horn, this handle offers a unique and natural grip, making each knife distinct.
Blade Pattern - Ladder Damascus: The blade boasts an intricate ladder Damascus pattern, ensuring not just performance but also visual appeal.
Overall Length 9.25 Inches: With a length of 9.25 inches, this knife strikes the ideal balance between utility and maneuverability.
Leather Sheath: For added convenience, it comes with a leather sheath to protect your valuable tool.
Whether you're a seasoned hunter, an outdoor enthusiast, or simply appreciate the finest craftsmanship, these Hunting Knives from KBS Knives Store are the ultimate companions for your adventures. Choose the variant that resonates with your style and needs and elevate your outdoor experiences to new heights. Don't miss the opportunity to own one of these extraordinary pieces of cutlery. Visit KBS Knives Store today to make one of these knives your trusted outdoor companion.