---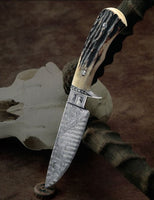 Introducing the epitome of craftsmanship and precision in hunting tools – the Hunting Knife with Full Tang Damascus Steel Blade, available exclusively at the KBS Knives Store. This exceptional knife is meticulously designed and crafted to cater to the needs of the most discerning hunters and outdoors enthusiasts. Here are its remarkable features:
Full Tang Damascus Steel Blade: This hunting knife boasts a full tang construction, ensuring unparalleled strength and durability. The blade is meticulously forged from Damascus steel, renowned for its exceptional sharpness, resilience, and distinctive wave-like patterns. Whether you're skinning game or performing other demanding tasks, this blade is up to the challenge.

Handle Material - Antler Horn: The handle of this knife is a true testament to its craftsmanship. It is expertly crafted from genuine antler horn, providing a natural and ergonomic grip that ensures comfort during extended use. Each handle is unique, showcasing the innate beauty of the antler material.

Hand Engraved Steel Guard: Adding an exquisite touch to this hunting knife is the hand-engraved steel guard. This intricate detailing not only enhances the knife's aesthetics but also serves as a functional guard to protect your hand during use.

Overall Length 9 Inches: With an overall length of 9 inches, this knife strikes the perfect balance between portability and usability. It fits comfortably in your hand and can be easily carried on your belt or in your pack, ensuring it's always within reach when you need it.

Leather Sheath: To keep your prized hunting knife safe and secure, it comes complete with a custom-fitted leather sheath. This sheath not only adds a touch of elegance but also ensures the knife is readily accessible while protecting the blade from the elements.
Whether you're an avid hunter, an outdoor enthusiast, or simply appreciate fine craftsmanship, the Hunting Knife with Full Tang Damascus Steel Blade from KBS Knives Store is a must-have addition to your collection. With its blend of superior materials, exquisite design, and practical functionality, it's not just a tool but a work of art designed to stand the test of time. Don't miss the opportunity to own this extraordinary piece of cutlery. Visit the KBS Knives Store today to make it yours and elevate your hunting experience to a whole new level.