---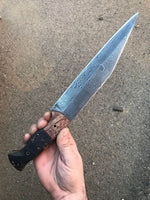 Introducing our Viking Seax Knife, a blend of history and modern craftsmanship, exclusively available at KBS Knives Store. This knife pays homage to the legendary Viking Seax and is designed for both historical enthusiasts and practical outdoor use.
Exquisite Damascus Steel Blade:
The Viking Seax Knife features an exquisite Damascus Steel Blade, meticulously crafted for durability and sharpness.
This blade pays tribute to the craftsmanship of the Viking era, offering a unique and functional design.
Epoxy Resin and Olive Wood Handle:
The handle is a work of art, combining Epoxy Resin and Olive Wood. This fusion of materials provides an ergonomic and comfortable grip.
Epoxy Resin ensures durability, while Olive Wood adds a touch of natural beauty to the knife.
Two Convenient Sizes:
The Viking Seax Knife is 13 inches Long, allowing versatility in your outdoor pursuits.
Leather Roll for Storage and Transport:
Safely store and transport your Viking Seax Knife with the included Leather Roll. This roll is designed to protect your knife and make it easily accessible whenever you need it.
Whether you're a history enthusiast, a collector, or an outdoor adventurer, the Viking Seax Knife is a versatile tool that combines the best of both worlds—historical authenticity and modern craftsmanship. Elevate your outdoor experiences and explore the past with a knife that is as functional as it is beautiful. Secure your Viking Seax Knife today, exclusively from KBS Knives Store, and carry a piece of Viking history with you on your next adventure.