---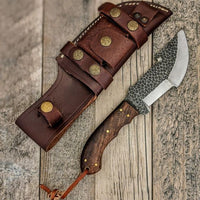 Introducing our exquisite Custom Handmade 1095 Hammer Forged Steel Gut Hook Blade Tracker Knife with a beautiful Rosewood handle. This knife is expertly crafted by skilled artisans who take pride in creating a high-quality, durable, and functional tool that is perfect for outdoor enthusiasts, hunters, and survivalists.
The 1095 high carbon steel blade is hand-forged using traditional hammer forging techniques, resulting in a blade that is incredibly sharp, tough, and resistant to wear and corrosion. The unique gut hook design adds versatility, making it ideal for field dressing and processing games. The rosewood handle is carefully hand-shaped and polished to provide a comfortable and ergonomic grip, ensuring precise handling and control.
With an overall length of 10 inches, this Tom Brown Tracker knife is the perfect size for various tasks in the wilderness, whether it's cutting rope, preparing food, or building a shelter. The horizontal leather sheath is designed for easy carry on your belt, providing quick access to your knife whenever you need it. The sheath is also hand-stitched and embossed with intricate details, adding to the overall aesthetic appeal of this exquisite piece.
Add this custom handmade gut hook tracker knife to your collection or gift it to a loved one who appreciates craftsmanship and quality. With its unique design, premium materials, and impeccable craftsmanship, this knife is sure to become a cherished tool that will last for generations to come. Invest in a piece of art that also serves as a reliable tool for all your outdoor adventures!