---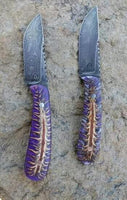 Introducing our Skinning Knife, a true masterpiece of form and function, available exclusively at KBS Knives Store. This knife is meticulously designed for precision and performance, making it an essential tool for hunters and outdoor enthusiasts.
Exceptional Raindrop Damascus Steel Blade:
The Skinning Knife boasts an exceptional Raindrop Damascus Steel Blade, known for its superior sharpness and distinctively beautiful pattern.
This blade is expertly designed for skinning tasks, ensuring clean and efficient results every time.
Epoxy Pine-cone Resin Handle:
The handle is a work of art, skillfully crafted from Epoxy Pine-cone Resin. This material not only lends a unique aesthetic but also offers a secure and comfortable grip.
Resistant to wear and tear, the resin handle is ideal for enduring the rigors of outdoor use.
Compact 8-Inch Overall Length:
With a compact 8-inch overall length, this Skinning Knife strikes the perfect balance between maneuverability and utility.
Whether you're in the field or at the campsite, it's the perfect companion for skinning and various outdoor tasks.
Custom Leather Sheath:
Safeguard your Skinning Knife with the included custom leather sheath, designed for both protection and convenient carrying.
The sheath ensures your knife remains in pristine condition and is always within reach when needed.
The Skinning Knife with Raindrop Damascus Steel Blade and Epoxy Pine-cone Resin Handle is more than just a tool; it's an embodiment of artistry and functionality. Whether you're a seasoned hunter or an outdoor enthusiast, this knife seamlessly blends form and function. Elevate your outdoor experiences with a trusted companion that excels in both design and performance. Secure your Skinning Knife today, exclusively from KBS Knives Store, and experience excellence with every use.