---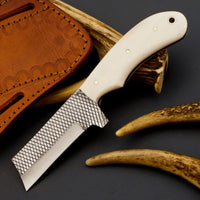 Introducing the exceptional Custom Handmade Cowboy Farrier Rasp Bull Cutter Knife with Bone Handle, a versatile tool for farriers and ranchers, exclusively available at KBS Knives Store. This 8-inch masterpiece is meticulously crafted to handle tough tasks with precision and ease.

**Rasp Bull Cutter Blade:** The knife features a specially designed rasp bull cutter blade, expertly crafted for efficient cutting and shaping in farrier and ranching activities.

**Bone Handle:** The handle, carved from authentic bone, offers a comfortable and secure grip, making prolonged use effortless and comfortable. Its natural texture adds rustic charm to the knife's design.

**Overall Length of 8 inches:** With its balanced size, this cowboy farrier knife provides optimal control and maneuverability, enhancing your performance in various tasks.

**Custom Leather Sheath:** Safely carry and store your knife with the included custom leather sheath, designed to protect your tool while ensuring easy access.

The Custom Handmade Cowboy Farrier Rasp Bull Cutter Knife with Bone Handle showcases KBS Knives Store's dedication to quality and functionality. Whether you're a professional farrier, rancher, or collector of specialized tools, this knife offers exceptional utility with a touch of craftsmanship. Elevate your daily tasks or collection with this remarkable piece—secure your knife today and own a functional work of art that's certain to become an invaluable asset in your toolbox.