---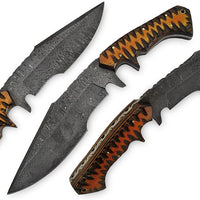 This Custom Handmade Damascus Steel Survival Knife by KBS Knives Store is a true work of art. With its stunning design and exceptional craftsmanship, this knife is not only a reliable tool for survival situations, but also a beautiful piece to showcase in your collection. The blade is hand-forged from high-quality Damascus steel, known for its durability and sharpness, making it perfect for various outdoor tasks.
The exotic wood handle adds a touch of elegance to the knife, providing a comfortable and ergonomic grip for extended use. The handle is meticulously crafted to enhance both the aesthetic and functional aspects of the knife. The unique grain patterns and rich colors of the wood make each handle truly one-of-a-kind.
With an overall length of 13 inches, this knife provides ample reach and versatility for a wide range of tasks, from cutting rope to preparing food in the wilderness. The blade features a sharp edge for precise cutting and a durable spine for heavy-duty tasks. The knife also comes with a horizontal leather sheath for easy storage and transport, adding to its functionality and convenience.
Whether you're an outdoor enthusiast, a collector, or just appreciate the beauty and craftsmanship of a handmade knife, the Custom Handmade Damascus Steel Survival Knife by KBS Knives Store is sure to impress. It's a reliable tool that will serve you well in any survival situation, and a stunning piece of art that will be cherished for generations to come. Order yours today and experience the unmatched quality and beauty of this exquisite knife.