---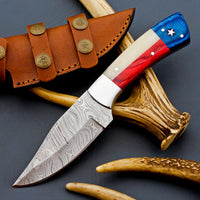 Introducing the extraordinary Custom Handmade Texas Flag Damascus Steel Hunting Knife with Exotic Wood-Bone Texas Flag Handle, a tribute to state pride and craftsmanship, exclusively available at KBS Knives Store. This 9-inch masterpiece is meticulously crafted to embody your Texas spirit while excelling in functionality.

**Damascus Steel Blade:** The knife boasts a meticulously hand-forged Damascus steel blade, renowned for its exceptional sharpness, durability, and distinctive patterns. Its cutting precision ensures superior performance for hunting and outdoor tasks.

**Exotic Wood-Bone Texas Flag Handle:** The handle is a remarkable blend of exotic wood and authentic bone, intricately carved into a Texas flag pattern. It's not just a knife but a symbol of your Texan heritage.

**Overall Length of 9 inches:** With its balanced size, this hunting knife offers optimal control and maneuverability, making it a dependable tool for various outdoor activities.

**Custom Leather Sheath:** Safely carry and store your knife with the included custom leather sheath, designed for both protection and easy access.

The Custom Handmade Texas Flag Damascus Steel Hunting Knife proudly represents KBS Knives Store's dedication to quality and artistry. Whether you're an outdoor enthusiast, a Texan by heart, or a collector, this knife harmonizes form and function seamlessly. Elevate your outdoor pursuits or collection with this remarkable piece—secure your knife today and own a functional work of art that captures your Texas pride while being a reliable tool in your adventures.