---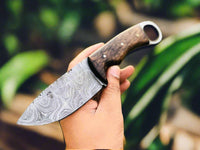 Introducing the Best Skinner Knife, a masterpiece of craftsmanship designed for the discerning outdoorsman. Exclusively available at KBS Knives Store, this knife is the epitome of form and function.
Key Features:
Twisted Damascus Steel Blade: The blade is meticulously crafted from Twisted Damascus steel, known for its exceptional strength and eye-catching pattern. This ensures remarkable cutting performance and long-lasting sharpness, making it perfect for skinning and field dressing.

Full Tang Construction: This knife boasts a full tang design, ensuring robustness and reliability in the most demanding situations. It provides exceptional balance, stability, and strength for precise cutting.

Drop Point Blade: The drop point blade profile is versatile and practical. It excels in precision cutting, offering excellent control for skinning tasks.

Walnut Wood Handle with Finger Hole: The handle is made from Walnut Wood, which is not only visually appealing but also durable. It features a strategically placed finger hole for enhanced grip and control during use.

Compact and Precise: With an overall length of 8.5 inches and a 4-inch blade, this knife strikes the perfect balance between compactness and precision. It's an ideal companion for hunting, camping, and outdoor adventures.

Leather Sheath Included: To keep your Best Skinner Knife secure and accessible, we provide a top-quality leather sheath. It ensures safe storage and easy retrieval during your outdoor excursions.
This Best Skinner Knife is a testament to our commitment to quality and performance. Whether you're a seasoned hunter or an outdoor enthusiast, it's designed to meet your needs and exceed your expectations. Elevate your outdoor experiences with a knife that's as reliable as it is stylish. Order yours from KBS Knives Store today and experience the difference firsthand.