---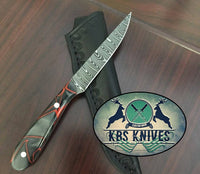 Experience the artistry and functionality of a Damascus Steel Fillet-Boning Knife with an Epoxy Resin handle from KBS Knives Store. This knife features a unique and vibrant handle made of epoxy resin, providing a comfortable grip and exceptional cutting performance. With an overall length of 10 inches and a leather sheath included, this knife is perfect for filleting and boning tasks in the kitchen.
Product Features:
Handmade Damascus steel blade: The blade is hand-forged from high-quality Damascus steel, known for its superior sharpness, strength, and durability. The unique Damascus pattern on the blade adds a touch of elegance to the knife.
Epoxy Resin handle: The handle features a stunning and vibrant design made of epoxy resin, providing a comfortable and ergonomic grip. The epoxy resin material is durable, moisture-resistant, and easy to clean, making it ideal for kitchen knives.
The overall length of 10 inches: With an overall length of 10 inches, this fillet-boning knife offers ample reach and maneuverability for various cutting tasks. It is a versatile size suitable for both home cooks and professional chefs.
Leather sheath included: The knife comes with a premium leather sheath for safe storage and easy transport. The sheath not only protects the knife from damage but also adds a touch of sophistication to the overall package.
Handcrafted excellence: Each knife is meticulously handcrafted by skilled artisans, resulting in a unique and visually stunning piece of art. The epoxy resin handle adds a touch of modernity and style to the knife's overall aesthetic.
Premium quality: Made from high-quality materials and crafted with meticulous attention to detail, this Damascus steel fillet-boning knife offers top-notch performance and durability. It is a premium choice for those who appreciate fine craftsmanship and demand the best in their kitchen tools. Upgrade your culinary arsenal with this exquisite knife from KBS Knives Store today!