---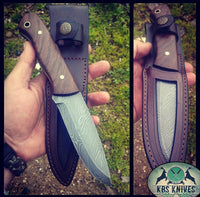 Introducing the Damascus Bushcraft Camping Knife, a versatile and beautifully crafted blade designed to meet the demands of outdoor enthusiasts, campers, and bushcraft enthusiasts. This exceptional knife, available exclusively at KBS Knives Store, combines aesthetics and functionality for a truly remarkable outdoor tool.
Blade: At the core of this bushcraft camping knife is a remarkable Damascus steel blade, expertly hand-forged to perfection. The blade showcases intricate patterns that not only captivate the eye but also signify the superior quality of Damascus steel. Beyond its visual appeal, this blade offers exceptional sharpness, durability, and edge retention, making it an ideal tool for a wide range of outdoor tasks, from carving to cutting.
Handle: The handle of this bushcraft knife is a testament to both form and function. Crafted from rich and elegant Rosewood, it provides a comfortable and ergonomic grip that ensures precision and control during use. The full tang construction guarantees the blade's strength and stability, ensuring that it can withstand the rigors of outdoor adventures.
Overall Length: Measuring at a versatile 9 inches in overall length, this bushcraft camping knife strikes the perfect balance between compactness and utility. It's the ideal size for a multitude of camping and outdoor activities, fitting comfortably in your hand and gear.
Leather Sheath: To protect and transport your prized Damascus Bushcraft Camping Knife, it comes with a high-quality leather sheath. The sheath not only offers protection but also complements the knife's classic and rustic appearance. Whether you're wearing it on your belt or stowing it in your camping gear, the sheath ensures your knife is readily accessible and well-preserved.
Handcrafted with precision and attention to detail, this Damascus Bushcraft Camping Knife is a testament to the dedication and skill of the craftsmen at KBS Knives Store. Whether you're a seasoned camper, a bushcraft enthusiast, or someone who appreciates the blend of artistry and utility, this knife is a true companion for outdoor adventures. Don't miss the opportunity to own this exceptional tool. Order yours today and experience the timeless beauty and functionality of this remarkable Damascus camping knife.