---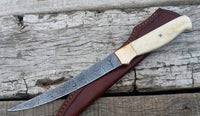 The Damascus Steel handmade Fillet-Boning Knife with Bone and Brass Bolster handle by KBS Knives Store is a stunning addition to any kitchen. Handcrafted with premium Damascus steel, this knife boasts a unique and beautiful pattern on its blade. The handle is made from bone and features a brass bolster, adding to its elegance and durability. With an overall length of 11 inches, this fillet-boning knife is designed for precision filleting and boning tasks, making it a versatile tool for both professional chefs and home cooks. The knife also comes with a leather sheath for safe and convenient storage.
Product Features:
Premium Damascus Steel: Handcrafted with high-quality Damascus steel, known for its exceptional strength, sharpness, and unique patterns on the blade.
Bone and Brass Bolster Handle: Handle made from bone, providing a comfortable grip, and featuring a brass bolster for added durability and style.
Precision Filleting and Boning: Designed for precise filleting and boning tasks, making it an essential tool for culinary mastery.
Overall Length of 11 inches: The knife's moderate length of 11 inches makes it easy to handle and maneuver for various filleting and boning tasks.
Leather Sheath: Comes with a leather sheath for safe and convenient storage, protecting the knife from damage and ensuring easy accessibility when needed.
Handmade: Meticulously crafted by skilled artisans, ensuring a high level of quality and attention to detail in every knife.
Versatile: Ideal for filleting and boning various types of fish, meat, and poultry, making it a versatile tool in the kitchen.
Elegant Design: The Damascus steel blade combined with the bone handle and brass bolster give this knife a classic and sophisticated appearance, adding a touch of elegance to your kitchen.