---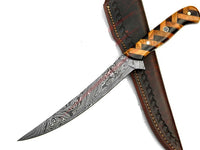 Indulge in the beauty and functionality of our custom handmade Damascus steel fillet knife by KBS Knives store. This exceptional knife features a blade handcrafted from premium Damascus steel, renowned for its sharpness and durability. The handle is a true masterpiece, with custom rosewood and olive wood scales, lending a unique and elegant aesthetic appeal. With an overall length of 13 inches, this fillet knife is designed for precision and performance, making it a must-have tool for any culinary enthusiast. It comes complete with a leather sheath for safe storage and transport, making it a perfect gift or addition to your kitchen.
Product Features:
Handmade: Each knife is meticulously crafted by skilled artisans, ensuring superior craftsmanship and attention to detail.
Damascus Steel Blade: Made from high-quality Damascus steel, known for its razor-sharp edge, durability, and unique patterns.
Custom Rosewood and Olive Wood Handle: Boasts a luxurious handle with custom rosewood and olive wood scales, creating a one-of-a-kind and stunning appearance.
Overall Length of 13 inches: Designed for optimal performance, this fillet knife offers a generous length for precise filleting tasks.
Leather Sheath: Comes with a leather sheath for safe storage and easy transport, ensuring the knife remains sharp and protected.
Customizable: Can be personalized or engraved for a truly unique and meaningful gift for special occasions.
Versatile: Suitable for a wide range of culinary tasks, including filleting fish, deboning meat, and slicing fruits and vegetables.
Exceptional Quality: Each knife is crafted with the highest quality materials, resulting in a durable, functional, and beautiful kitchen tool that will stand the test of time.