---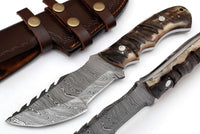 Discover the epitome of outdoor versatility with our Best Tracker Knife, designed to meet the demands of adventurers and survivalists. This exceptional knife boasts a Full Tang Damascus Steel Blade and a handle crafted from rugged Micarta Sheep Horn. With an impressive overall length of 9.5 inches, it's the ultimate outdoor companion, complete with a horizontal leather sheath. Exclusively available at KBS Knives Store, where quality meets functionality.
Key Features:
Full Tang Damascus Steel Blade: The heart of this Tracker Knife is a Full Tang Damascus Steel Blade, known for its exceptional sharpness, durability, and unique patterns. It excels in various outdoor tasks, from cutting to chopping.

Rugged Micarta Sheep Horn Handle: Crafted from Micarta Sheep Horn, the handle offers durability, moisture resistance, and a superior grip. It ensures a secure hold, even in challenging conditions.

Impressive 9.5-Inch Length: With an overall length of 9.5 inches, this Tracker Knife provides an ideal balance of versatility and control, making it a valuable tool for camping, hiking, and survival.

Horizontal Leather Sheath: The knife is accompanied by a custom-fitted horizontal leather sheath, allowing quick and easy access to your trusted tool. The sheath combines functionality with sophistication, ensuring your knife stays secure and ready for action.
Elevate your outdoor adventures with the Best Tracker Knife from KBS Knives Store, where ruggedness meets precision. Whether you're a seasoned survivalist, a camper, or someone who values top-tier tools for outdoor endeavors, this knife is designed to exceed your expectations. Don't miss the opportunity to make this exceptional piece of cutlery your trusted outdoor companion; visit KBS Knives Store today and embark on your next adventure with the Best Tracker Knife for sale.