---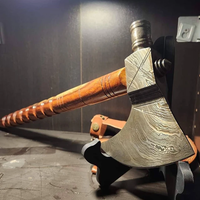 Introducing the striking Damascus Smoke Pipe Tomahawk/Axe with Rose Wood Handle, a versatile tool and collectible available exclusively at KBS Knives Store. This exquisite piece embodies the fusion of artistry and functionality, making it a must-have for outdoor enthusiasts and collectors alike.
**Damascus Steel Blade:** The tomahawk/axe features a hand-forged Damascus steel blade, showcasing a stunning pattern and exceptional sharpness. Whether for chopping, cutting, or camping needs, this blade delivers top-notch performance.
**Rose Wood Handle:** The handle is crafted from rich and durable rose wood, providing an ergonomic and comfortable grip. The smooth and polished surface adds an element of elegance to the design.
**Multi-Functional Design:** With a smoke pipe built into the tomahawk's head, this piece serves not only as a tool but also as a unique smoking pipe for those special moments around the campfire.
**Leather Sheath:** For safe storage and convenient carrying, the tomahawk/axe comes with a custom leather sheath, ensuring the blade is protected and ready for action whenever needed.
Crafted with meticulous attention to detail, the Damascus Smoke Pipe Tomahawk/Axe with Rose Wood Handle exemplifies the craftsmanship that sets KBS Knives Store apart. Whether you're a camping enthusiast, an outdoor adventurer, or a collector seeking a unique piece, this Damascus tomahawk/axe is an exceptional addition to your collection. Don't miss the chance to own this extraordinary blend of art and utility—place your order now.