---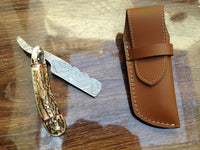 Introducing the exquisite Straight Razor with a Damascus Steel Blade and Antler Horn Handle, available for sale exclusively at KBS Knives Store! This exceptional grooming tool combines timeless craftsmanship with premium materials to provide you with an unparalleled shaving experience.
Key Features:
Damascus Steel Blade: Crafted from high-quality Damascus steel, this razor boasts exceptional sharpness and durability. The Damascus steel blade is renowned for its beautiful and intricate patterns, making each razor a unique work of art. It ensures a smooth and precise shave with every use.

Antler Horn Handle: The handle of this straight razor is meticulously crafted from Antler Horn, a material known for its natural beauty and comfortable grip. It not only adds a touch of rustic elegance to your grooming routine but also provides excellent control and balance for a seamless shaving experience.

Leather Sheath: To protect your razor when not in use and to add a touch of sophistication, we've included a high-quality leather sheath. This sheath not only ensures the safety of your blade but also makes it convenient for storage or travel.

Handcrafted Excellence: Each razor is carefully handcrafted by skilled artisans, ensuring precision and attention to detail in every aspect of its design and construction. This dedication to craftsmanship guarantees a product that will last for generations.

Versatile and Eco-friendly: By choosing a straight razor, you're making an eco-conscious choice. Unlike disposable razors, this straight razor produces minimal waste and can be used for years, reducing your environmental footprint.

Perfect Gift: Whether you're buying it for yourself or as a gift for a loved one, this straight razor is an ideal choice for those who appreciate the art of traditional grooming and the finer things in life.

KBS Knives Store: When you shop with us, you're not just buying a razor; you're investing in quality, craftsmanship, and exceptional customer service. Our reputation for excellence in the knife and razor industry speaks for itself.
Experience the ultimate in shaving luxury with our Straight Razor featuring a Damascus Steel Blade and Antler Horn Handle. Elevate your grooming routine, showcase your individuality, and make a statement with this extraordinary piece, available now at KBS Knives Store. Don't miss out on this opportunity to own a piece of grooming history!