---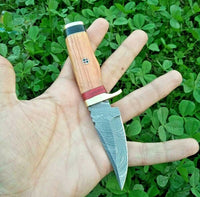 Introducing the Damascus EDC Skinning Knife with Olive Wood-Brass Guard Handle, a true gem for knife enthusiasts, available exclusively at KBS Knives Store. This compact 6-inch knife is designed for everyday carry and skinning tasks, combining functionality and beauty in one exquisite package.
**Damascus Steel Blade:** The knife features a razor-sharp Damascus steel blade, meticulously hand-forged to ensure exceptional cutting performance and edge retention. The mesmerizing Damascus pattern adds elegance to the blade.
**Olive Wood-Brass Guard Handle:** The handle is a stunning combination of rich olive wood and brass guard, providing a comfortable and secure grip during use. This unique blend of materials exudes sophistication and durability.
**EDC and Skinning Design:** With its compact size and versatile blade shape, this knife is perfect for everyday carry needs and excels at skinning game during hunting trips.
**Leather Sheath:** To protect and carry the knife conveniently, it comes with a custom leather sheath that complements the knife's aesthetics and ensures safe storage and easy access.
Crafted with precision and passion, the Damascus EDC Skinning Knife with Olive Wood-Brass Guard Handle is a testament to the artistry and dedication of KBS Knives Store. Whether you're a collector, an outdoor enthusiast, or a professional, this knife is designed to impress and perform. Elevate your knife collection or gift a cherished individual with this extraordinary blade. Don't miss your chance to own this exceptional piece—place your order today.