---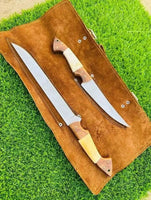 Introducing the Fishing Fillet and Boning Knife Set, a must-have for anglers and seafood enthusiasts, exclusively available at KBS Knives Store. This set is designed to elevate your filleting and boning tasks, ensuring precision and ease in every cut.
High-Quality Stainless Steel Blades:
The set includes two knives, each featuring high-quality stainless steel blades. These blades are corrosion-resistant, ensuring long-lasting sharpness for efficient filleting and boning.
Elegant Bone and Rosewood Handles:
The handles are crafted with a combination of Bone and Rosewood, providing a comfortable and secure grip while adding an elegant touch to the set.
These handles are not only visually appealing but also offer exceptional durability.
Two Convenient Sizes:
The set includes a 13-inch knife for larger filleting tasks and a 9.5-inch knife for more intricate work, allowing you to handle a variety of fish sizes with ease.
Leather Roll for Storage and Transport:
Safely store and transport your knives with the included Leather Roll. This roll is designed for both protection and convenience, ensuring your knives remain in pristine condition and ready for your next fishing adventure.
Whether you're a professional fisherman or a seafood enthusiast, this Fishing Fillet and Boning Knife Set is an essential addition to your kitchen or tackle box. Experience the precision and quality of knives designed specifically for filleting and boning tasks. Elevate your culinary and fishing experiences with a set that combines functionality with elegance. Secure your Fishing Fillet and Boning Knife Set today, exclusively from KBS Knives Store, and enjoy the perfect catch every time.