---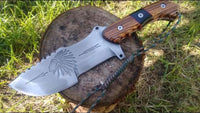 Enhance your outdoor gear with our Custom Handmade Tracker Knife featuring a unique combination of Olive Wood and Buffalo Horn handle. This handcrafted knife boasts an overall length of 10 inches, making it a versatile and reliable tool for various outdoor tasks. The Native American engraved blade adds a touch of cultural heritage to this exceptional knife.
The O1 tool steel blade is known for its durability and sharpness, making it perfect for cutting, chopping, and carving tasks in the wilderness. The Olive Wood and Buffalo Horn handle provide a comfortable grip with a rustic and natural look that complements the overall aesthetics of this handcrafted knife.
The Native American engraving on the blade adds a unique and artistic touch, making this tracker knife a truly one-of-a-kind piece. The included horizontal leather sheath allows for easy storage and transport, ensuring that your knife is always ready for your next adventure.
Invest in a premium-quality tracker knife with exquisite craftsmanship and exceptional performance. Order our Custom Handmade O1 Tool Steel Tracker Knife with Olive Wood and Buffalo Horn Handle today and experience the superior quality of this exquisite outdoor tool!"