---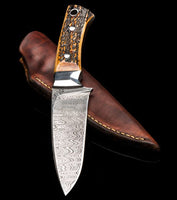 Introducing a pinnacle of hunting excellence – the High-Quality Hunting Knife with a Full Tang Damascus Steel Blade and an Antler Horn handle adorned with a Steel Bolster. This extraordinary knife, available exclusively at KBS Knives Store, is designed to elevate your outdoor experience with its remarkable features:
Full Tang Damascus Steel Blade: The blade is meticulously handcrafted from Damascus steel, known for its exceptional sharpness, durability, and unique wavy patterns. This blade ensures outstanding performance for a wide range of hunting and outdoor tasks.

Handle Material - Antler Horn with Steel Bolster: The handle is a work of art in itself, expertly crafted from genuine Antler Horn. Its natural beauty, texture, and ergonomic design provide a comfortable and secure grip. The addition of a Steel Bolster enhances both functionality and aesthetics.

Overall Length 8.5 Inches: This hunting knife strikes the perfect balance between portability and versatility. With an overall length of 8.5 inches, it's easy to carry while still providing ample blade length for various tasks in the field.

Leather Sheath: To ensure your prized knife is always within reach and protected, it comes with a custom-fitted leather sheath. This sheath not only adds a touch of elegance but also safeguards the blade from the elements.
Whether you're a seasoned hunter, an outdoor enthusiast, or someone who appreciates top-tier craftsmanship, the High-Quality Hunting Knife with Full Tang Damascus Steel Blade and Antler Horn handle from KBS Knives Store is a must-have addition to your outdoor gear. With its fusion of premium materials, ergonomic design, and practical features, it's not just a tool but a work of art designed to withstand the rigors of the wild. Don't miss the opportunity to own this extraordinary piece of cutlery. Visit KBS Knives Store today to make it yours and elevate your outdoor adventures to new heights.