---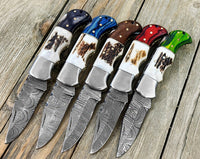 Introducing the remarkable Utility Folding Knife with a 3-inch Damascus Steel Blade, Exotic Pakka Wood, and Stag Horn Handle, accompanied by a premium leather case, available exclusively at KBS Knives Store. This exquisite folding knife seamlessly combines elegance and functionality, making it an essential tool for everyday tasks.

**Damascus Steel Blade:** The knife boasts a precision-crafted 3-inch Damascus steel blade, renowned for its exceptional sharpness, durability, and intricate patterns. Its versatile design ensures reliable cutting performance for a variety of applications.

**Exotic Pakka Wood and Stag Horn Handle:** The handle is meticulously fashioned from exotic Pakka wood and stag horn, offering both aesthetic appeal and a comfortable grip. This combination adds elegance and practicality to the knife.

**Folding Mechanism:** The folding design ensures convenience and portability, making it a reliable companion for daily use and outdoor adventures.

**Premium Leather Case:** Safely store and transport your knife with the included premium leather case, designed to protect your tool while ensuring quick and easy access.

Elevate your everyday carry with the Utility Folding Knife from KBS Knives Store. Whether you're a collector, outdoor enthusiast, or seeking a versatile tool for your day-to-day tasks, this knife perfectly balances form and function. Secure your knife today and own a timeless piece that's guaranteed to become an indispensable part of your gear collection.