---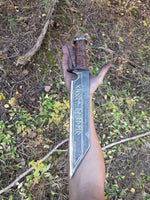 Introducing our Viking Seax Knife with a Classic Engraved Full Tang 1095 Steel Blade, a blend of history and contemporary craftsmanship, available exclusively at KBS Knives Store. This knife is a tribute to the Viking Seax, designed to captivate both collectors and outdoor enthusiasts.
Classic Engraved Full Tang 1095 Steel Blade:
The Viking Seax Knife boasts a Classic Engraved Full Tang 1095 Steel Blade, meticulously crafted for exceptional strength, razor-sharpness, and enduring durability.
The blade features intricate engravings that pay homage to Viking artistry.
Rosewood Handle with Steel Guard:
The handle is elegantly designed with Rosewood and a Steel Guard, providing a timeless and comfortable grip.
Rosewood adds a touch of natural beauty to the knife, while the Steel Guard ensures stability and safety during use.
Generous 14-Inch Overall Length:
With a generous overall length of 14 inches, this Viking Seax Knife offers extended reach and versatility for various tasks.
Whether you're reenacting history or embarking on outdoor adventures, this knife is up to the task.
Leather Roll for Storage and Transport:
Safeguard your Viking Seax Knife with the included Leather Roll, designed for secure storage and easy transportation.
This roll ensures your knife remains protected and readily accessible.
Whether you're a history enthusiast or a practical outdoorsman, the Viking Seax Knife with its Classic Engraved Full Tang 1095 Steel Blade is a harmonious fusion of tradition and modernity. Elevate your collection or outdoor gear with this exquisite piece. Secure your Viking Seax Knife today, exclusively from KBS Knives Store, and carry a piece of Viking history wherever you go.